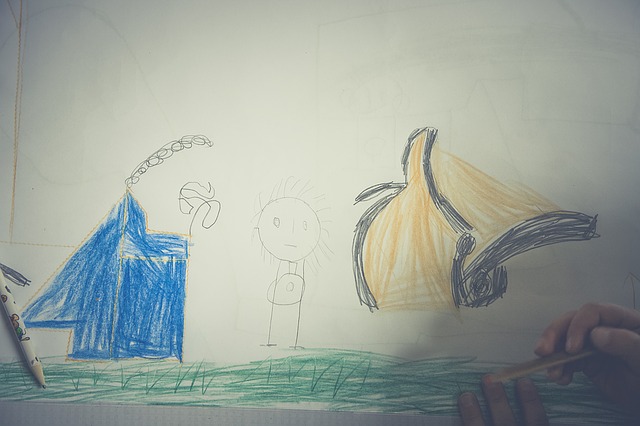 –It seems the paint had no sooner dried before little Emma or Jack discovered the fresh, clean walls. Not only are crayons scattered all over the floor, the brand new expensive paint on the family room wall looks like an abstract art exhibit.
George Borlodan, the owner of San Luis Obispo's Borlodan Painting Company, has some good advice for frustrated parents of young artists. "The first thing parents try to do is wash off the kids' art," said Borlodan. "It's important to use the right solution for cleaning the walls. Otherwise, the paint can be damaged. Once it is cleaned up, there are some other things to think about to make future clean up easier."
Other than hiring a full-time art tutor, what can be done to save the walls from experimenting young artists? Things that can help preserve the paint and keep it looking as fresh as new include:
Using the right cleaning solution
Providing a place for art projects
Use an easy to clean paint
Using the right cleaning solution
One of the questions to ask the painting contractor is "What is the best cleaner for this paint?" The wrong kind of cleaning solution can damage, or even remove, paint. There are several household cleaners that claim to be "gentle" but might not be appropriate for certain kinds of paint. Get a professional recommendation. There is no guarantee that a do-it-yourself (DIY) solution from the Internet is going to work, either.
Before washing the wall:
Call your painter and ask for cleaning solution recommendations
Take a photo of the art and put a print on the refrigerator or frame it and hang it where everyone can appreciate your child's talent
Providing a place for art projects
It's best to supervise very young artists while they are creating, and keep the paint and crayons out of their reach when not in use. Child experts also recommend setting up an area dedicated to creating art. Good ideas, but sometimes the kids still get hold of a pen, pencil or the crayons and manage to color the walls anyway. Here are some additional safeguards to help with young muralists who just won't stop using the walls:
Purchase washable art supplies that can be cleaned up with a damp sponge
Consider painting a wall or section of a wall with blackboard paint and providing colored chalk
Tape large pieces of paper to the walls that can be removed (without damaging the paint) and replaced with fresh paper
Use an easy to clean paint
Before starting a painting project, ask your painting contractor for recommendations for easy to clean paint that is appropriate for the space. A washable, low-VOC paint is the best solution. Low-VOC paints are free of toxic levels of air pollutants and are still sturdy enough to stand up to repeated washing. The San Luis Obispo painters from Borlodan Painting use only low-VOC paint because of the environmental and health factors.
Single coat paint might be the answer because it can be used to paint over modern art exhibits that appear on your walls.
If the paint has become damaged from too much art and too much cleaning, consider repainting that particular wall with an easier to clean paint.
Borlodan Painting Company has been serving San Luis Obispo and California's Central Coast since 2005. That was the year owner George Borlodan switched from auto mechanics to painting. Since then, the company has completed projects for residential and commercial jobs, hotels, wineries, barns, fences and furniture, cabinets and fixtures.
The company has a five-star rating from Yelp and is featured on the Home Services San Luis Obispo website.