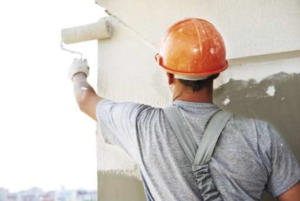 Whether repainting a home's exterior or updating the rooms inside with new colors, it is important to have confidence in the company that does the work. The Templeton house painters from Borlodan Painting bring that confidence to their clients and their work.
Beginning with helping choose the right paint and colors and a fair job price all the way through to the final result, Borlodan Painting Company has a reputation for quality workmanship. From exterior to interior home painting projects to restoring paint on treasured landmarks, Borlodan has handled jobs as small as painting a basket to match a wall. The company's most important goals are to:
Arrive at a fair price that takes into account both your desired result and budget
Gain our customers' trust by delivering the highest quality of work with pride
A fair price
Rather than advertising flat rates, we recognize that every home or commercial space has distinct needs. We take into account what you're looking for and what you can afford and negotiate a price that is fair to everyone.
The highest quality of work
Templeton house painters must understand all the aspects of painting from colors to the best paint for the job, including the tools and best techniques for the job. It is important to us that you and your family trust us to be in and around your home as we work. We consider health and environmental issues by providing a smoke-free work environment and using low-VOC (volatile organic compounds) products that reduce headaches, dizziness and respiratory issues.
If painting is not done perfectly it cheapens the look of even the most impeccably decorated space. The colors, the type of paint for the right purpose and the top painting skills all combine to create a quality finished product.
With over ten years of experience as a commercial painter, founder George Borlodan knows that the colors in a room, the vibrancy and tone exert a deep effect upon those who occupy it. Your home's exterior is just as important as the interior and Borlodan Painting excels is using quality paint that can withstand the dramatic weather in California's Central Coast and provide years of pleasure and protection.
Painting more than your house
Whether it's a historic home, a new fence, a special room or window trim, we take pride in being the best Templeton house painters. We're happy to work with you to find a fair rate for your project, large or small, and invite you to call us at (805) 295-0194 for a free estimate.
We can help you with:
Residential painting
Commercial painting
Hotels
Wineries
Barns
Cabins
Furniture, cabinets and fixtures
Fences
About Templeton, California
Templeton, with the GPS coordinates of 35.5497° N, 120.7060° W, is a rural community on California's Central Coast. The area is home to schools, ranches, olive groves, wineries, vineyards and a village that is a popular destination spot. Main Street in the village of Templeton is lined with historic buildings housing shops, offices, a unique hardware store, a feed store and some of the areas most popular eateries.
Activities in the Templeton area include the weekly Saturday morning farmer's market, local festivals, and concerts and entertainment at the local wineries.
The intention was to name the town "Crocker" when it was established in 1886, after the Charles F. Crocker, the Vice President of the Southern Pacific Railroad. Instead, Crocker named the town "Templeton" after his two-year old son.
As an adult, Charles Templeton Crocker went on to write and produce the play, "The Land of Happiness," which he later adapted to the opera, "Fey-Yen-Fah." In 1930 Crocker set out on a sailing trip around the world. He later memorialized the trip in his book, "The Cruise of the Zaca." Upon Crocker's return from the cruise, the Zaca was used periodically by a number of scientific organizations for expeditions until Crocker sold it to the United States Navy in 1940. The yacht was later purchased by Errol Flynn, who released a documentary film by the same title about a 1946 specimen collection trip taken with his father, marine biologist Professor Theodore Flynn.